Environmental Benefits of Green (Planted & Vegetated) Roofs
A roof technology that can reduce both peak energy demand and the urban heat island effect is the green (or planted, garden or vegetated) roof.
Green roofs are excellent insulators during the warm weather months, and the plants cool the surrounding environment. Air quality is improved as the plants absorb and convert carbon dioxide to oxygen. Green roofs also absorb storm water and curb runoff, generally retaining as much as three quarters of the volume of rainwater. The result is less rainwater runoff to overstressed sewer systems. Planted roofs typically consist of an insulation layer; a waterproof membrane; a drainage layer, usually made of lightweight gravel, clay, or plastic; a geotextile or filter mat that allows water to soak through but prevents erosion of fine soil particles; a growing medium; plants; and, sometimes, a wind blanket. There are two basic types of green roofs: intensive and extensive.
Intensive green roofs consist of a minimum of one foot of soil depth to create a more traditional rooftop garden, with large trees, shrubs and other manicured landscapes. They are multi-layer constructions with elaborate irrigation and drainage systems, used only on low-slope roofs. Often designed expressly for recreational purposes or other foot traffic, intensive green roofing systems add considerable load to a structure and require significant levels of maintenance and irrigation.
In contrast, extensive green roofs range from as little as 1 to 5 inches in soil depth, adding less load to a building. The plants supported within these vegetated roof systems usually have low water requirements and are typically those tolerant of high heat, drought, wind and frost, such as sedums, wildflowers and moss.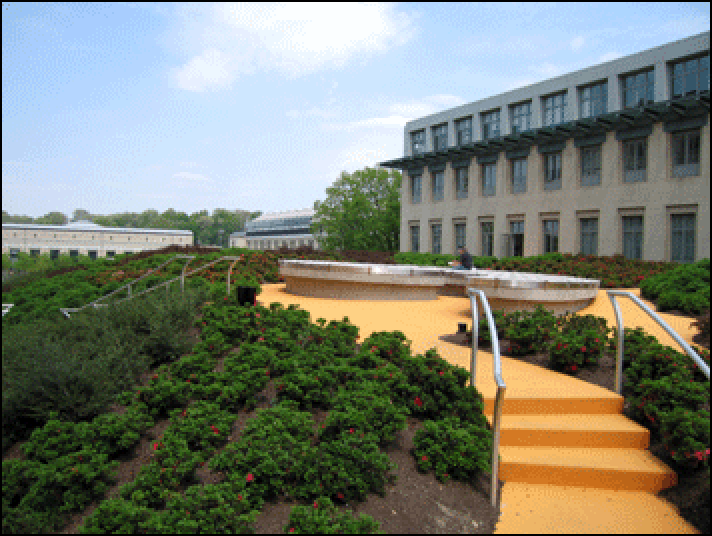 Extensive green roof systems generally require less maintenance than intensive systems. Some garden roof designs incorporate both intensive and extensive elements. Thermoplastic PVC is often used for the waterproofing membrane, which is manufactured to remain watertight in extreme conditions including constant dampness, ponding water, high and low alkaline conditions and exposure to plant roots, fungi and bacterial organisms. Some green roofs in Europe have lasted more than 40 years without being replaced.
For more information, refer to these resources:
U.S. EPA's "Reducing Urban Heat Islands: Compendium of Strategies – Green Roofs"

  [4.27 MB]
NASA & Green Roof Research: Utilizing New Technologies to Update an Old Concept

   [3.5 MB]
Looking Up: How Green Roofs and Cool Roofs Can Reduce Energy Use, Address Climate Change, and Protect Water Resources in Southern California – a report of the Natural Resources Defense Council and the Emmett Center on Climate Change and the Environment at the UCLA School of Law

   [1.6 MB]
Cool Roofing Codes,
Programs and Standards
Additional Reading
Review case studies, white papers & other authoritative background materials on PVC membrane roofing.
For all additional reading, click here »
Tested, Trusted Every Day – Environmental Profile: Vinyl Roofing Membranes
This brochure presents the most recent and reliable scientific data, complete with references, in response to questions about the health and safety of PVC membrane roofing…
Download full document

[704 KB]
The Facts on PVC and the Environment
This presentation provides a detailed environmental overview of both the material vinyl and vinyl membrane roofing…
Download full document

[1.5 MB]