Why PVC (Vinyl) is the Aesthetic Roofing Solution
Thermoplastic PVC membranes are often recommended for commercial roofing projects with cosmetic features. With this material, aesthetics need not take a back seat to other critical building envelope considerations. PVC's functional strengths dovetail with its aesthetic properties to make it a material of choice for roofing systems and projects with complex roof curvatures or other lines and details.
In addition, designers looking to aesthetically and environmentally enhance a building can consider PVC for the waterproofing membrane of a green planted roof; it remains watertight in extreme conditions including constant dampness, ponding water, high and low alkaline conditions and exposure to plant roots, fungi and bacterial organisms.
WHAT MAKES PVC THE AESTHETIC ROOFING SOLUTION?
CUSTOMIZABLE COLOR – PVC membranes are typically available in white, beige or gray. However, adding pigments to PVC resin during formulation can create singly-ply membranes in a wide spectrum of hues, allowing designers to match or accent the roofing membrane to enhance a building's aesthetic properties. Specific Pantone Matching System (PMS) colors or paint chips are easy to duplicate. The pigmentation can even cause the PVC roofing membranes to take on the appearance of a more costly material, such as standing seam metal.
CAN INTEGRATE ROOFTOP LOGOS – Incorporating rooftop logos into the membrane is a matter of cutting them out in a template and adhering them, with the edges hot-air welded. Other components can be welded to the membrane to create additional aesthetic roofing effects, while providing the security of watertight hot-air welded seams.
ACCOMMODATES COMPLEX SHAPES AND CURVATURES – Complex roof lines and curvatures or multiple roof penetrations all can be accommodated by PVC's inherent flexibility and strength. It is easy to form long-lasting tight seals around these details and penetrations, and the effect can be aesthetically very impressive.
SUPPORTS GREEN ROOFS – Some green roofs have lasted more than 40 years without being replaced, bringing aesthetic, ecological and social benefits to modern buildings in urban areas. PVC roofing is often used in the waterproofing layer of these planted roofs; the permanent hot-air welded seams do not deteriorate in the perpetually moist environment of a green roof, and it is highly effective at preventing water and root penetration.
References & News
Durability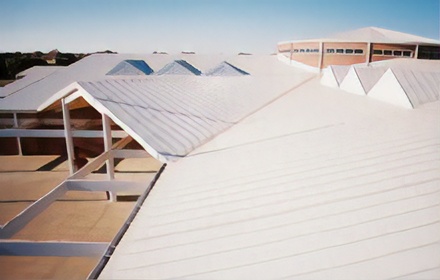 Sustainability